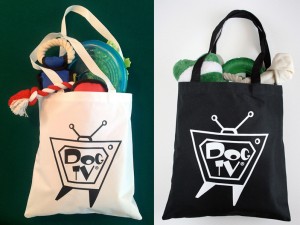 Special Offer!
A must have for all of the DOG TV® fans.
Your choice of white or black tote bags made with recycled materials with the DOG TV® logo.
Size 13 3/4x 14 3/4 with 28" double handle.
Price: 14.00ea. plus shipping
Shipping $5.20
DOG TV® ships via United States Postal Service.
Orders will be shipped within 5-7 business days.
Contact us for out of country shipping charges.
Return Policy.
Any request for refund must be within 30 days of receiving your purchase. Please contact us at [email protected].