Have you ever heard of Canine Companions for Independence? I hadn't until I ran into CCI giving a demonstration at a local dog event in the area. I was hooked from the start and had to become a volunteer.
Canine Companions for Independence is a national organization with regional offices throughout the country. Their main goal is to raise and train dogs for people with disabilities. It's a time consuming project but volunteer puppyraisers throughout the country raise and train these wonderful puppies for about a year providing food, veterinary care, and loving homes. The puppies are trained in social situations like malls, workplaces, parks and any public place where they may encounter different noises, smells and situations. It takes a heart of gold to be a volunteer puppy-raiser because after about a year, the volunteer returns the dog to CCI for advanced training after which they will be matched to a person with a disability.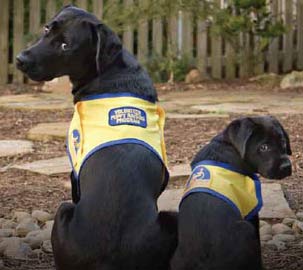 CCI is always looking for volunteers nationwide. They have several regions that are covered, North Central, Northeast, Southeast and Southwest. Even if you decide not to raise a puppy, there is always something to do for the organization. Get involved with your local CCI chapter and make new friends, two legged and four!
If you're interested in more information contact www.cci.org
Wish lists for Canine Companions for Independence can be found on their website but here are just a few of the items that are needed:
Towels and washcloths, stainless steel dog bowls, shedding blades and various toys and treats.
Please check CCI.org for specifics.